follow me @leahnanako for the latest news
UPCOMING:
SATURDAY MAY 3RD @ 8PM
 Studio 42′s below-the-belt, no-holds-barred, best of the best heavyweight championship returns to rock (and shock) on May 3rd!
Don't miss the city's most deliciously "unproducible" playwrights battle it out for fame, glory, and a pretty sweet trophy.
GET YOUR TICKETS HERE
MONDAY MARCH 3RD @ 3pm
A reading of my play COPE at New York Theater Workshop, Monday's at 3 series. Wanna come and give feedback? Email me at leahnana@gmail.com
Young and eager journalist Risa Kelly receives her first big grant to write an article about predicting psychosis.As she observes the patients at the COPE clinic- a research center for young adults who are at-risk for schizophrenia, she begins to question her own sanity, and at what cost the decent of madness can be predicted.
MONDAY MARCH 10TH @ 7:30 pm, $12 in advance, $15 at the door
I'll be presenting a new work titled, EAT ME: A SATIRE ON DEVISED THEATRE at my favorite performance series- Little Theatre at Dixon Place.  It's an amazing line-up and I'm super excited to collaborate with the hilarious  Morgan Gould and Friends .
EAT ME: A SATIRE ON DEVISED THEATRE
written by Leah Nanako Winkler
directed by Morgan Gould And Friends
A satire on devised theater based on real experiences.

FULL LINE UP is very exciting and includes work by Corina Copp, Mike Iveson and Kate Scelsa!
Little theatre @ Dixon Place
161A Chrystie btw. Delancey & Rivington
(F/V 2nd Ave; 6 Bleecker; JMZ Bowery)
1st come, 1st served, no reservations ('less you buy yr. tix online)
For more information, call (212) 219-0736, or browse www.dixonplace.org
SUNDAY MARCH 16TH @ 8pm, FREE

I'm so excited to announce that for one-night only-

The Amoralists

will take over my play Death For Sydney Black  at Walkerspace! If you missed it at TerraNova RX, here is your chance to catch a reading by another one of NYC's most exciting theater companies!
Amoralfest = Me,

Adam Szymkowicz

,

Dominic Finocchiaro

,

Sofia Alvarez

,

Ian Daniel

, Sarah DeLappe and 

Brian Otaño. 
THURSDAY MARCH 20TH, @ 7pm, $15
I will be presenting some new work as part of Work With Me Here at HERE Arts Center. For a full schedule and ticket information, please visit.  http://here.org/shows/detail/1414/
About the show
Work With Me Here is a theatrical event comprised of works IN or ABOUT process. It is part performance, part installation and it takes the form of a series of works by 15 of New York's hottest up and coming playwrights, housed in a non-traditional theatre space, an eclectic room rich with allusion, character and anachronism. Created by Kevin Brouder, Hunter Canning, Jonathan Cottle, Rachel Karp, Tegan Ritz Mcduffie, Teff Nichols & Tenement Street Workshop. Featured playwrights:Jaclyn Backhaus, Chris Barlow, Britton Buttrill, Troy Deutsch, Javier Gonzalez, Amina Henry.Maya MacDonald,Catya McMullen,Leah Nanako Winkler,Teddy Nicholas,Christopher Oscar Pena,Sarah Shaefer,Crystal Skillman,Diana Stahl,Chris Tyler.

PAST EVENTS
Monday, February 18, 7:30 pm: My play Death For Sydney Black at Amoralab @ Dixon Place. Free.
BARBORA is an evening of multidisciplinary performance. We bring together makers of live experience who would otherwise never share a stage but whose work resonates at the many edges of this dear mystifying multi-everything world. All are welcome. A place to be thrilled and challenged. A place to talk to strangers. A place that is a foreign country and also your home.
…and more!
curated by Alex Borinsky & Clare Barron
JAN 2014
-In the process of confirming Feb-March gigs which include showing some work at Barbora @ Bowery Poetry Club ( Feb 16), Little Theatre @ Dixon Place (March 10th) and WATCH ME WORK at HERE Arts Center (March 17-23). Details coming soon.
-I was a part of this amazing podcast called Whats My Name hosted by the incredible Chemda Katg of Keith and The Girl last week in conversation with Jordan Tierneyand Elysee Inzunza about growing up mixed race. The whole thing costs $5 to listen to, but it's worth it I promise! I had so much fun.
-Received a Sloan Commission for my short play GEMINOID F through the Ensemble Studio Theater/Youngblood!
-I was a part of New George's 1st George Sand Invitational One-Minute-Play Festival at INTAR theater. You can watch the full  HowlRound.com Howlround.TV archive from the event here! http://www.livestream.com/newplay/
-A talkback I participated in  with TerraNova Collective, Martin Denton and J.Julian Christopher can get heard on Robert Gonyo's "Go See A Show" podcast! Check it out for free at http://goseeashowpodcast.com/2014/01/10/talkback-jennifer-conley-darling-martin-denton-j-julian-christopher-and-leah-nanako-winkler/
WINTER 2013
DECEMBER 1-15, 2013 Please join me for a workshop production of my play DEATH FOR SYDNEY BLACK! Facebook  event here
DEATH FOR SYDNEY BLACK

Written by LEAH NANAKO WINKLER
Directed by KIP FAGAN

DEATH FOR SYDNEY BLACK is a darkly familiar and subversive take on the 'teen comedy' trope, as characters sing, rap, and enact various versions of a timeless story: the unpopular girl becomes popular, high-school cliques tear asunder, and revenge is exacted. Find out if this uncensored 21st century fairytale has a happy ending!

FEATURING:  Allison Buck, Beth Hoyt, Emily Kratter, Danielle Slavick, Samantha Strelitz, and Natalie Woolams-Torres.

Scenic Designer: JASON SIMMS
Lighting Designer: SETH REISER
Sound Designer: DAVID MARGOLIN LAWSON
Costume Designer: JESSICA PABST and STEPHANIE LEVIN
Original songs and arrangements by JEN KWOK
Stage Manager: AMBER LOUISE MATHIS

VENUE: IRT Theater, 154 Christopher Street, 3B, New York 10014


PERFORMANCES:

December 1 @ 3pm
December 2 @ 8pm
December 5 @ 8pm
December 7 @ 8pm
December 8 @ 6pm
December 11@ 8pm
December 13 @ 8pm
December 14 @ 5pm
December 15 @ 3pm

Tickets are ON SALE now! 
GENERAL ADMISSION $20
EARLY BIRD TICKETS $12 with code RxEARLY, available until Nov 20th only! 
FALL 2013
NOVEMBER 14 and 15- my play The Lowest Form Of Writing  will be a part of American Nightcap at the Intar Theater.
NOVEMBER 5-10 My play Taisetsu Na Hito, directed by Matt Dickson and featuring Darcy Fowler*, Alex Herald and Mari Yamamoto will be a part of Caps Lock Theater's Sex With Robots Festival.   Read about it on Broadway World and the  New York Post! Tickets available here  More Details below:
NOVEMBER 5-10 @ THE SECRET THEATRE in LONG ISLAND CITY
In this festival by NYIT Award-nominated Caps Lock Theatre, enjoy an evening of eight short plays, all about sex with robots. Nine playwrights offer a window into our humanity as their characters project their messy desires onto their mechanical lovers.
Girlfriend Repair by Micheline Auger; directed by Kel Haney
My Fantasy Sex Robot Came in the Mail Today by Danny Bowes; directed by Amber Gallery
Make Your Bed in Hell by J. Julian Christopher; directed by Melissa Attebery
Simon Says by Richard Lovejoy & Eric Meyer; directed by Michael Gardner
Just Right by Mariah MacCarthy; directed by Nick Leavens
Sasha by Mac Rogers; directed by Pete Boisvert
Taisetsu Na Hito by Leah Nanako Winkler; directed by Morgan Gould
A Real Boy by Natalie Zutter; directed by Leta Tremblay
with a robot sex song cycle by Nat Cassidy
November 11 – 25- I'm starting rehearsals for my play  Death For Sydney Black produced by Terra Nova Collective and directed by Kip Fagan.  The show will run in December 2013 at IRT Theatre. More details forethecoming.
October 8th-12 
 The time has come again for EST/Youngblood's ASKING FOR TROUBLE.
THE CONTINUING ADVENTURES OF JULIA CHILD.
 The result involves  fetishes, love and coq au vin. I'm in Series B, along with playwrights Chiara Atik, Tony Meneses, Jen Silverman, Will Snider, Chris Sullivan and Emily Chadick Weiss.  We perform 10/8 TUESDAY 8:30; 10/10, THURSDAY 7pm; 10/12, SATURDAY 5pm and you can get tickets
here
. Additional details below:
Asking for Trouble is back for its 11th, glorious year.
23 ten-minute plays created in two weeks by 128 artists.
For full cast lists:
http://www.ensemblestudiotheatre.org/asking-trouble-2013
Performance schedule:
SERIES A:
10/8, TUESDAY 7pm; 10/10, THURSDAY 830; 10/12, SATURDAY 3pm
SERIES B:
10/8 TUESDAY 8:30; 10/10, THURSDAY 7pm; 10/12, SATURDAY 5pm
SERIES C:
10/9, WEDNESDAY 7pm; 10/11, FRIDAY 830; 10/12, SATURDAY 8pm
SERIES D:
10/9, WEDNESDAY 8:30; 10/11, FRIDAY 7pm; 10/12, SATURDAY 10pm
See one show, or see them all!
Buy tickets here: https://web.ovationtix.com/trs/cal/134
General admission: $12
2-series pass: $20
3-series pass: $28
4-series pass: $36
September 9-13 : My play Diversity Awareness Picnic  will be at Playwrights Horizons SuperLab. with Clubbed Thumb! I am super excited!
SUMMER 2013 
NAGORIYUKI AND OTHER SHORT PLAYS by Leah Nanako Winkler is now available on CreateSpace and Amazon for $10.00! This is a collection of short plays I wrote that have been performed in NYC between 2008-2013. Subjects range from modern love to duck sex to a teen's obsession with Justin Bieber to prostitutes living in 18th century Edo Japan. Filled with monologues, poetic language and LOLS.
Order your copy today at any of the following links!
US
https://www.createspace.com/4313028
http://www.amazon.com/dp/1490366377
EUROPE
http://www.amazon.co.uk/dp/1490366377
http://www.amazon.de/dp/1490366377
http://www.amazon.es/dp/1490366377
http://www.amazon.fr/dp/1490366377
http://www.amazon.it/dp/1490366377
I answered a few questions about class, race, identity and theater for  The Brooklyn Commune Project, a grassroots initiative organized by Culturebot.org and The Invisible Dog Art Center  to educate, activate and unify performing artists of all disciplines to work together towards a more equitable, just and sustainable arts ecology in America.
Tickets are only $5 at the door. The lounge at Dixon Place is located on 161A Chrystie Street, ground floor, New York, NY
August 1st at 8pm- I'm very excited to be working with Terra Nova Collective again as part of the Groundbreakers Playlist in The Women's Center Stage Festival at The Lynn Redgrave Theatre at Culture Project.

Tickets are available now at https://web.ovationtix.com/trs/pe/9803013
Details below!
Some more exciting developments are happening in the Fall to be announced! Stay tuned!!!!
MAY 2013 NEWS
May 5th, 1pm: My play DOUBLE SUICIDE AT UENO PARK!!! at Youngblood's History Brunch at the Ensemble Studio Theatre, directed by John Giampietro starring Bobby Foley, Natalie Kim, Satomi Blair, Jo Mei, Allison Buck and Cleo Grey.
Tickets Will Be Available  Soon at http://ensemblestudiotheatre.org/
Get them fast- these sell out very quickly!!!
May 12th, 6pm:  A performance a short play I wrote with some amazing teens called   THE TRUTH ABOUT AMERICA will be at the  the Acorn Theatre on Theater Row as part of the New Group/ Urban Arts Partnership's Life Stories series where I was a resident playwright this year.  Directed by Victor Maog.
The Acorn Theatre
Theatre Row
410 West 42nd Street
(between 9th and 10th Aves.)
Get directions
May 13th, 3pm: A reading of If You Lose Your Way: A Food Odyssey at New York Theater Workshop's Mondays at 3 series. Directed by Pirronne Yousefzadeh with writing by Leah Nanako Winkler, Lauren Feldman, Nastran Ahmadi and Charise Castro Smith, music by Nick Choksi  - created collaboratively by the group and an ensemble of actors
May 15th 7pm: A reading of my new play, COPE directed by TBA as part of Youngblood/EST's BLOODWORKS.
More information like location, director and cast TBA. But for now, save the date!
COPE
by Leah Nanako Winkler
Risa, a young journalist on her first big assignment, spends three weeks observing and studying the COPE clinic- a research center for young adults  with prodromal symptoms to schizophrenia. As she gets to know the patients who seem to live between reality and their own delusions, she begins to wonder if the  decent into  madness can be predicted….. and if so, at what cost?
MARCH/APRIL 2013
-I was invited to be a Playwright In Residence with the 4th Annual New Group/Urban Arts Life Stories Youth Ensemble. The final product will be presented at the Acorn Theatre on Theater Row in May. Stay tuned for tickets and information! 
- My essay, Analyze My Face will be a part of the Japanese American National Museum/Discover Nikkei's exhibition,  "Visible and Invisible: A Hapa Japanese American History" from April 6-August 30, 2013.
March 3rd, 2013:
My short play DUCK SEX, directed by John Giampietro will be performed at the Alfred P Sloan Foundation/Ensemble Studio Theatre's 'EINSTEIN ON THE BRUNCH' at 1p.m. Tickets are $18, and includes four other plays about science and a brunch/cocktail buffet. https://web.ovationtix.com/trs/pe/9757605
March 9th, 2013
A workshop performance of my play Diversity Awareness Picnic  will be presented at The Flea Theater (20 Thomas Street space)  on March 9th. The exact time is TBA, but it will take place in the afternoon.  Please contact me if you'd like to attend the closed  presentation. Leahnana@gmail.com. Admission is free.
March 11th, 2013
I will  be presenting a short piece NAGORIYUKI  at Little Theatre @ Dixon Place. Directed by Matt Dickson, sound and video by Chase Voorhees and performed by Eli Gelb, Jared Maguire and Allison Buck. Tickets available here. 
 FEBRUARY 2013
February 9 and 10th. 2013
I will have a monologue in Caps Locks Theater's  PUSSYFEST REDUX!  Details below
Pussyfest Redux
Acted by:
Lindsey Austen. Virginia Baeta. Dana Berger. Becca Blackwell. Becky Byers. Hanna Cheek. Louiza Collins. Leah Dietrich. Susan Ferrara. Kim Gainer. Zoe Geltman. Ana Grosse. Lauren Hennessy. Homa Hynes. Sarah E. Jacobs. Sheila Joon. Yeauxlanda Kay. Jocelyn Kuritsky. Catherine LeFrere. Sarah Lemp. Parker Leventer. Joey Liao. Sevrin Anne Mason. Sarah Matteucci. Allyson Morgan. Romy Nordlinger. Diana Oh. Briana Packen. Laura Ramadei. Stacey Raymond. Emily Rupp. Elizabeth Seldin. Sarah Shaefer. Chet Siegel. Samantha Soule. Diana Stahl. Alexis Thomason. Sarah Todes. Anna Van Valin. Kristen Vaughan. Miranda Wilson. .
Written by:
Rob Askins. Micheline Auger. Kari Bentley-Quinn. Emily Bohannon. J. Stephen Brantley. Zack Calhoon. Ruben Carbajal. Nat Cassidy. J. Julian Christopher. Alexis Clements. James Comtois. Josh Conkel. Cecilia Copeland. Fernanda Coppel. Kim Davies. Libby Emmons. Susan Ferrara. Cynthia Flowers. Zoe Geltman. Lucy Gillespie. Yeauxlanda Kay. Jenny Lane. David Lawson. Brandon Marianne Lee. Judith Leora. Mariah MacCarthy. Maya Macdonald. Daniel McCoy. Nicole Pandolfo. Marisel Polanco. Mac Rogers. Christine J. Schmidt. August Schulenberg. Louise Schwarz. Elizabeth Seldin. Sarah Shaefer. Diana Stahl. Tatiana Suarez-Pico. Daniel Talbott. Jona Tarlin. Leah Nanako Winkler.
Directed by:
Heather Cohn. Nic Grelli. Sherri Kronfeld. Kyle Metzger. Christina Roussos. Leta Tremblay. Nicole Watson. Jordana Williams.
Music and Ukeladies courtesy of:
Diana Oh. Emily Rupp. Reema Zaman. Jody Christopherson and the Vagina Choir.
At:
Joria Studios.
260 West 36th Street, 3rd floor.
February 9 & 10, 8pm
JANUARY 2013
Thursday-Saturday Jan 24-27, 2013-
My play DUNGEON DIARIES will be a part of #serials at The Flea Theater. Starring  it also stars Akyiaa Wilson, Bobby Foley, Vicki Rodriguez, Brett Hunter, and Peregrine Heard   directed by the awesome Will Taylor (Choreographer of Restoration Comedy!)  Hurry and reserve your seat NOW by e-mailing serialreserve@theflea.org, they're going fast!!
NOVEMBER 2012
Check out  Write-ups about my manifesto and the program itself at Prelude NYC on Culturebot and Contemporary Performance
Breath and Manifestos by Jessica Applebaum
Prelude 12: The Manifesto Recap by Eric Shethar
Write up on Contemporary Performance 
November 1-30 Indianapolis premiere of Death For Sydney Black presented by No Exit Theater.
Read about it on Nuvo
November 11, 13, 16: NYC Workshop of Death For Sydney Black at Terra Nova Collective/IRT Theatre dir. Kip Fagan.
The play will be part of Terra Nova Collective's GROUNDWORKS initiative to showcase the new play development projects and expose this work to artistic leaders, industry professionals and the general public. terraNOVA is thrilled to have cultivated relationships with 4 talented playwrights and to continue in the development of their wonderful plays. This October, November and December, as part of our residency at IRT Theater, we will develop and present the work of playwrights including
J. Julian Christopher, Jennifer Lane, Leah Nanako Winkler and Lucy Gillespie.
All public performances will take place at IRT Theater, 154 Christopher Street, between Greenwich and Washington. 
Tickets on the door at IRT Theater – suggested donation $10.
Our Groundworks series is supported by Brooklyn Brewery and Monsieur Touton Wine.
November 28, 29th: Reading/Workshop of Dead People (cowritten with Teddy Nicholas) at Long Island University Reading Series (time and exact location coming soon)
OCTOBER 2012
October 3rd at 6:30 pm Presenting at Manifesto at Prelude NYC
Read about it on:
Wed 10/10 @ 7pm, Fri 10/12 @ 8:30pm, Sat 10/13 @ 8pm
My short play WHY ME directed by Ben Kamine, with Laura Ramadei & Jonathan Randell Silver† will be part of YOUNGBLOOD'S ASKING FOR TROUBLE at The Ensemble Studio Theatre
Buy tickets here $12
Wed 10/17 @ 3pm: Reading of my play  DIVERSITY AWARENESS PICNIC at The Flea Theater as part of their series: PLAYS OF INTEREST  It's free!!!!! Email readings@theflea.org to reserve.
SEPTEMBER 2012
-September 17 @8pm Reading of my play DIVERSITY AWARENESS PICNIC at The Bushwick Starr. Full info and directions here
-Chosen as a Semi-finalist for the 2012-2013 Page 73 Fellowship
Read About It on Stage Directions
-Finalist for the Doric Wilson Emerging Playwright Award
AUGUST 2012
 Nominee for the Doric Wilson Emerging Playwright Award
JULY 2012
New Ohio Theatre presents
ICE FACTORY 2012
     JULY 4 – 7
   FLYING SNAKES IN 3D
Produced by Everywhere Theatre Group
Written & Directed by Leah Nanako Winkler & Teddy Nicholas
Video/Sound Design by Chase Voorhees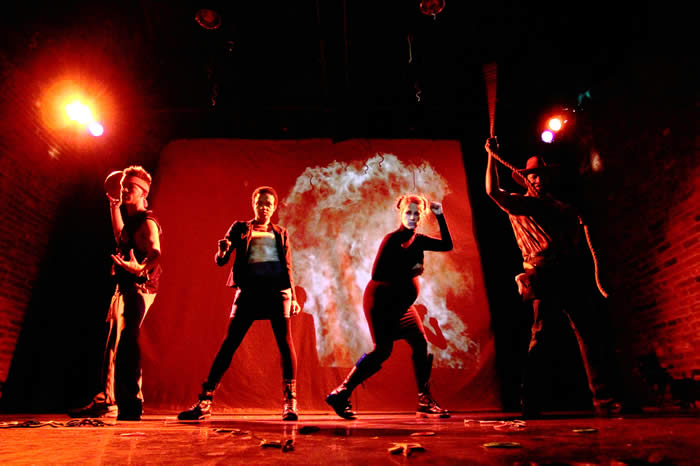 Flying Snakes in 3-D is an epic fusion of sci-fi parody, the avant-garde, and brutally autobiographical elements, in which a young and broke theater company challenge themselves to the ultimate task in order to pack the houses: to successfully make a play that is better suited for film. What they come up with is "Flying Snakes in 3-D,"where mutant killer snakes are accidentally released from CIA-enlisted scientific headquarters under the setting of earth under attack, and violent, bloody chaos ensues. Will The Heroes be able to defeat the snakes? Will the theatre company be able to make their play succeed in the face of overwhelming financial, technical and emotional obstacles? Packed with dance, cheap special effects, and absolutely stunning video design, this tongue-in-cheek parody wildly entertains while daring to ask the question: If theater is a dying art, why are we still making it?
JUNE 2012
-Mon 6/4 @ 9 pm
A reading of my new play, DIVERSITY AWARENESS PICNIC at The Ensemble Studio Theater as part of Youngblood's BLOODWORKS. Information and reservations TBA.
MAY 2012
- MAY 7TH at BAR 82 
A reading of a piece I wrote for Joseph Fink/ Commonplace Books project:  What It Means To Be a Grown-Up: The Complete and Definitive Answer, in which writers, artists, and comedians from across the country respond to the question "What does it mean to be a grown-up?".
There will be  readings and performances from contributors. Also beer and talking with other people and interactive things that you can interact with. Come join with us in celebrating being a grown-up. You know, whatever that means.
-MAY 15TH @ The CHERRY LANE THEATER
I'll have a play as part of Asian and…  an evening of scenes and readings that will take place at the Cherry Lane Theater on May 15th.  Here is a little bit more info about Asian And…:
We volunteered at the recent AAPAC (Asian American Performers Action Coalition) town halls and helped produce the promotional video for the February roundtable, which was covered in the 
New York Times
 and 
Huffington Post
. AAPAC's round table featured influential members of the NYC theater community ( including playwright David Henry Hwangand the Public theater's Artistic director Oskar Eustis) and addressed underrepresentation of ethnic artists and what steps could be taken to change that. As a direct response to this movement Bobby and I have started a project called 
Asian and…
, which is dedicated to millennial Asian American theater artists creating, producing, and promoting new works that tell truthful stories and champion ethnic diversity across the board.  We hope that through empowering young theater artists, both Asian and non we can change the face of New York theater and redefine what it means to tell an "American" story. On
 May 15th
, we will be holding an evening of readings of new works at the Cherry Lane Theater.  The goal of this event would be to raise awareness for the project and to raise funds for commissioning andpossibly producing new plays.
WAPRIL 2012
        MONDAY 4/9 @ 7PM
     THE ROOM @ NEW GEORGES
Death For Sydney Black is a play that deconstructs destructive female stereotypes through appropriation and release. Borrowing from contemporary tropes such as "teen comedy" as well as classical fairy tale narratives, the play highlights the untenable standards girls are subjected to daily while encouraging uncensored, brutal insights about womanhood. The play centers on Nancy, a young girl newly arrived from a magical forest, Jen, her token minority sidekick and and Sydney Black, the evil queen of the high school
that must be brought down. We also meet three cheerleaders who are starving, beautiful and desperate, and the charming jock, Brad (played by the actress who plays Sydney Black). As Jen speaks, sings and raps various versions of a familiar story where the unpopular girl becomes popular, as harsh realities are remembered and roles are reversed, the girls realize they've been stuck in the same narrative since the dawn of fairytales through "chickflicks" in 2012 and beyond.
Starring…..
Nancy Upton ( as featured on the The Today Show, Huffington Post, Jezebel), comedian Jen Kwok(NBC's Standup for Diversity, "Eat, Pray, Love"), Lindsay Mack ( FLYING SNAKES IN 3-D!!!) along with the amazingly awesome Lillian Rodriguez, Susannah Jones and Emily Kratter as The Three Cheerleaders!!!!
Directed by  Kip Fagan and Leah Nanako,  support by New Georges and Kara Lynn Vaeni
Are you a producer? Industry? Email me at Leahnana@gmail.com and I will reserve you a seat!
MAKE SURE YOU RSVP TO ME IF YOU WANT A GUARANTEED SEAT!
Wine and snack reception to follow!
THE ROOM @ New Georges
520 8th Avenue, New York, New York 3rd Floor
Monday, 4/9/12 at 7 pm
-APRIL 1st: My play, ARCH NEMISIS will be a part of Ensemble Studio Theater's April Fools Brunch!
FEBRUARY 2012
FEB 5TH: I will be a participating playwright in PIPER McKENZIE's DAINTY CADAVER
More info at http://www.pipermckenzie.com/
FEB 24th: Sydney Black table read at New Georges- directed by Kara Lynn Vaeni
JANUARY 2012

January 18 – 28, 2012
Created collaboratively by Everywhere Theatre Group
Stage Direction: Leah Nanako Winkler
Co-Direction and Choreography: Lindsay Mack
Sound and Video Design/Direction: Chase Voorhees
Lighting and Scenic Design: Barbara Elderidge, Matt Taylor
Text: Leah Nanako Winkler and Teddy Nicholas
Stage Management: Raffaela Vergata
Featuring: Kim Gainer*, Lindsay Mack, Cory Hibbs, Jen Kwok, Peter Mills-Weiss, T Ramon Campbell, Chris Tyler, Eevin Hartsough*, Heather Lee Rogers, Molly Gray, Brett Hunter, David Weinheimer, Tim Platt and Tricia Cramer
*Appearing courtesy of Actors' Equity Association
- FOURTH IS BACK BY POPULAR DEMAND ON JAN 7TH & 8TH AT 11:30
Arranged by Tommy Smith
Featuring text from the actual drug journals of prominent authors, musicians and philosophers who never intended to have their journals published.  A music-heavy text mashup, FORTH is a hallucinatory sound play exploration of the opiatic state as experienced by geniuses.
Click for more pictures from the show!
Directed by Meiyin Wang
Additional text by Leah Winkler
January 7th & 8th @ 11:30 pm
$15 / $10 for students or unemployed (online code: BROKEASS)
55 33rd St., 4th Floor
Brooklyn, NY 11232
D, N, R to 36th St.
DECEMBER 2011
Rehearsals for FLYING SNAKES IN 3D!!! coming to The Brick Theater Jan 18-28th, 2012.
NOVEMBER 2011
-November 10-November 27th DEATH FOR SYDNEY BLACK will be produced by Thinking Cap Theater at the Empire Stage in Ft. Lauderdale, Florida. Starring Shira Abergel, Axy Carrion-Bannon, Nicole Stodard, Sarah Siegel, & Natasha Waisfeld. Purchase tickets online at http://thinkingcaptheatre.com Cash only at door.
November 16-8 p.m-  FLYING SNAKES IN 3D! will be perform as part of Ars Nova Ant Fest. Get your tickets here
Flying Snakes in 3D
part of
ANT Fest at ARS NOVA
$10 GET YOUR TICKETS NOW , as we are anticipating selling out!   
Nov. 9-12:
Some text I wrote
will be a part of
Tommy Smith's
FOURTH in a huge Sunset Park warehouse, the home of the production company Magic Future Box (
http://www.magicfuturebox.com/
).
Check out their site for details.
Forth
A radio documentary.
with text by Walker Benjamin, Jean Cocteau, Kurt Cobain & Leah Winkler
and songs by Cat Power, R. Kelly and Nine Inch Nails.
arranged by Tommy Smith
November 5th at 8 pm: 
I Don't Want To Read Your Blog ( written originally for
A4T at Youngblood/EST)
will be a part of a concert/play series at Cake Shop on Ludlow St. Check out the FB event
here
Thanks to Chris Sullivan for inviting us!
Details:
More Info

__ _ __ ___ _ ___ __ SHORT PLAYS ___ __ _ _ ___ ___ For the Love of Brandon by BEN ROSENTHAL
Directed by Chris Sullivan Henley by BRIAN OTANO
Directed by Eva Schelbaum I Don't Want to Read Your Blog written and directed LEAH NANAKO WINKLER
____ ______ ______ ___ __ _ ___ with _______ __ ______ __ _ _ _ ___ __
SLOW ANIMAL –> http://slowanimal.bandcamp.com/
HEAVEN'S GATE –> http://heavensgate.bandcamp.com/
PERFECT TEETH –> http://tinyurl.com/44alo8g
($7 /// doorzat eight, soundzat nine)
PONY SHOW Presents w/ SSG
OCTOBER 2011
- Come see ASKING FOR TROUBLE is EST/Youngblood's annual speed-theater freakout.
Last week 25 Youngblood Playwrights drew a director, a cast and a song from a hat, and then had one week to write a script for that director and cast. Inspired by (and utilizing) that song. Rehearsing now are 95 actors & 25 directors who will bring you some of the freshest plays you'll see this year!
ASKING FOR TROUBLE will be performed in four series. I am in Series D.
A single Series ticket is $12
2 Series for $20
3 Series for $30
4 Series for $36
SERIES D (performs Thu 10/6 @ 9pm, Sat 10/8 @ 3pm & 11pm)
Writers: Rachel Bonds, Ryan Dowler, Mary Hamilton, Anna Moench, Michael Walek & Leah Nanako Winkler. Directors: Knud Adams, Jeremy Bloom, Shoshona Currier, John Giampietro*, Colette Robert & Allie Woods. Actors: Anna Aronson, Pepper Binkley+, Eddie Boroevich*+, Dave Brown, Lucia Brizzi, Molly Carden, Frank deJulio, Darcy Fowler, Sam Gilroy, Tiffany Greene+, Grant Harrison, Lou Liberatore*+, Irene Longshore+, Erin Mallon+, Jo Mei, Eugene Oh, Jay Patterson*+, Gio Perez+, Erin Roberts+, Diana Ruppe*+, Ean Sheehy+, & Jonathan Randell Silver+
*denotes EST Member
+ denotes Equity Member
Leah will begin rehearsal for FLYING SNAKES IN 3D!
SEPTEMBER 2011
Accepted as a member of Youngblood, Ensemble Studio Theatre's collective of emerging professional playwrights under the age of 30.
AUGUST 2011
*Leah was selected as a semi-finalist for  the P73  Fellowship* 
*FLYING SNAKES IN 3D* , Everywhere Theatre Group's latest show, was selected for ANT FEST at Ars Nova*
August 23-27: Leah will be continuing collaboration as a writer on The Food Project lead by Pirrone Yousefzadeh and Lauren Feldman, on a fellowship at the The Space at Ryder Farm.  She is also….
* continuing text work on DEAD PEOPLE with Everywhere Theatre Group- which had a sold-out run at Ice Factory! Thanks guys! *
JUNE and JULY 2011
-Selected as a  semi-finalist for 2012  Princess Grace Award in playwrighting, for DEATH FOR SYDNEY BLACK
Writing text, co -directing and  collaboratively creating a full length version of DEAD PEOPLE with Everywhere Theatre Group,  as part of Ohio Theatre's Ice Factory ( part of the ice cube studio series) at 3LD Art And Technology Center.  Showtimes 9 p.m. on July 14th and July 15th- get your tickets here.

present
DEAD PEOPLE
collaboratively created and directed by Everywhere Theatre Group
(Teddy Nicholas, Leah Winkler, Chase Voorhees and Lindsay Mack)
part of the Ice Cubes Studio Series
JULY 14 & 15th – 9PM
@ 3 Legged Dog
purchase tickets here
original text by Teddy Nicholas and Leah Winkler
video by Chase Voorhees
choreography by Lindsay Mack
Beth sits at a laptop late at night, typing away to a faceless society. Slowly, her facade of humanity melts, uncovering the inner cruelty she inflicts upon others and herself. Focusing on the destructive nature of relentlessly driven people encumbered with everyday failure, DEAD PEOPLE fuses together elements of surrealism, dance, horror and cinematic video projections, to uncover the darkness inside us that emerges when the lines of reality begin to deteriorate.
MAY 2011

*Leah was accepted as a member of 2011-2012 New Perspective Theater's Women's Work Lab*

May 15th: Reading of DEATH FOR SYDNEY BLACK at Thinking Cap Theater in Fort Lauderdale, Florida. Directed by Nicole Stoddard.
May 14th-15th: Workshop and reading of DEATH FOR SYDNEY BLACK at Luna Theater in Philadelphia, PA.
Featuring: Melissa Dunphy, Caroline Blasius, Haley McCormick, Katy O'Leary, Kristen Egermeier and Gina Martino
Directed by Gregory Scott Campbell
May 12th: In house presentation of  OUR FOOD PLAY collaboration with Lauren Feldman,Pirrone Yousefzadeh at New York Theatre Workshop.

May 9th: My short play, DEAD PEOPLE will be at Little Theatre@ Dixon Place. Tickets available here. Show starts at 7:30.
APRIL 2011

April 15: Workshop performance at the The PIT for collaboration with Jen Kwok's new solo show, "Wish Come True" along with Juliet Jeske who is directing.  Tix are availble here. Hope to see you on Friday 4/15 at   7pm!
April 27, 29, 30- rejoining workshops for Food/Farming collaboration lead by Lauren Feldman and Pirrone Yousefzadeh.
MARCH 2011
Week of March 1-6: Joining workshops for Food/Farming collaboration lead by Lauren Feldman,Pirrone Yousefzadeh at New Georges.
FEBRUARY 2011

February 11 and 12th @ 8 p.m: Leah's ten-minute  play, Bieber Bug will perform as part of Leon Pease's  Friend Me A Festival of Short Plays and Performances . Featuring the illustrious Emily Kratter, directed by the amazing  Shelley Butler. At Centerstage NY, 48 West 21st Street, 4th Floor, Buzzer 401#New York, NY. Tickets are $10, buy them online at http://www.brownpapertickets.com/event/155683.
February 10 @ 8 p.m.: A workshop presentation of Death for Sydney Black will be presented by Terra Nova  Collective  at Incubator Arts Project as part of the 2010 Groundbreakers Reading Series. Directed by Mallory Catlett, featuring Nicole Hodges, Jen Kwok, Emily Kratter, Lauren Marcus, Jenny Gomez and Rachel Radenburg. At Incubator Arts Project,  (131 East 10th Street at 2nd Avenue).  FREE.
JANUARY 2011
Continuing work on the development of Death for Sydney Black
Beginning writing collaboration with comedianne/actress/writer/ukeplayer  Jen Kwok on TBA 2011 show
DECEMBER 2010
On the evening of Monday, December 6th, there will be a benefit for Terra Nova Theater Collective's Groundbreakers Playwright Group. at HERE Arts Center located at:
145 Avenue of the Americas
New York, NY 10013
(212) 647-0202
There will be ten-minute plays written by the participating writers (which includes me!)  performed that evening. Please join us from 7:30-10 p.m.!
NOVEMBER  2010

Leah will be directing "From A Different Place" by Jeff Helgeson as part of The Variations Theatre Group, 2010 Harvest One-Act Festival. Show-times are:  November 10th at 9:15 p.m. and November 13th at 7:00 p.m.
for reservations, please visit:
www.variationstheatregroup.com
AUGUST 2010
*Leah was accepted as a member of  Terra Nova Collective's Groundbreakers Playwright Group for the development of her play, Death For Sydney Black from August-December 2011.
August  10-21, 2011
A multi-media piece I am writing and directing text for ( with Everywhere Theatre Group) called:
THE INTERNET
will premiere at
INCUBATOR ARTS PROJECT
St. Mark's Church in-the-Bowery
131 East 10th Street
(at 2nd Avenue)
New York, NY 10003
For more information visit
or